Headlines
U.S. President Donald Trump and First Lady Melania Trump visit the Taj Mahal in Agra
Our two national constitutions both begin with the same three beautiful words: "We the people." That means that in America and India alike, we honor, respect, trust, empower, and fight for the citizens we proudly serve!: Donald Trump
"The First Lady and I have just traveled 8,000 miles around the globe to deliver a message to every citizen across this nation: America loves India. America respects India. And America will always be faithful and loyal friends to the Indian people.": Donald Trump
'The Taj Mahal inspires awe; A timeless testament to the rich and diverse beauty of Indian culture!': President Trump on his visit to Agra
The violence today in Delhi is disturbing & must be unequivocally condemned. Peaceful protests are a sign of a healthy democracy, but violence can never be justified. I urge the citizens of Delhi to show restraint, compassion & understanding no matter what the provocation : Rahul Gandhi
There is utmost need to maintain peace and calm. We appeal to everyone to not fall prey to rumours or incitements – Peace must be kept. The responsibility however, lies with the Union govt which has not made any attempt to address grievances of a large section of Indians : Sitaram Yechury
India and the US together are capable of leading the digital age in the 21st century. New alignment, new competition, new challenges and new opportunities are building the foundation for change in the 21st century: PM Modi
I've witnessed the rise in this trust in my visits to the US. I vividly remember when I met POTUS Trump for the first time in Washington, he had said that: "India has a true friend in the White House." He has always presented his love and affection for India: PM Modi
The core principle of a relationship between two people or countries is trust. 'Friendship is where trust is unshakable.' In the last few years, the new highs the trust between India and US has reached is historic!: PM Modi
We will always remember this remarkable hospitality, we will remember it forever. From this day on, India will always hold a very special place in our hearts: President @realDonaldTrump
America loves India, America respects India and America will always be faithful and loyal friends to the Indian people: President @realDonaldTrump
There is so much that we share: Shared Values & Ideals Shared Spirit of Enterprise & Innovation Shared Opportunities & Challenges Shared Hopes & Aspirations: PM @narendramodi
Five months ago, I had started my American trip from #HowdyModi. Today, my friend POTUS Trump is starting his trip from #NamasteTrump in Ahmedabad: PM Modi addressing the gathering at Motera Stadium
Very distressing news regarding disturbance of peace and harmony in parts of Delhi coming in. I sincerely urge Hon'ble LG n Hon'ble Union Home Minister to restore law and order n ensure that peace and harmony is maintained. Nobody should be allowed to orchestrate flagrations: Arvind Kejriwal – CM of Delhi
PM Modi and President Trump visit Sabarmati Ashram in Ahmedabad, Gujarat
PM Narendra Modi welcomes US President Donald Trump and Melania Trump in Ahmedabad, Gujarat
Supreme Court refuses to entertain petition seeking directions for immediate sanctions to be given by the government of Delhi to prosecute Kanhaiya Kumar in the 2016 Sedition case : Bar & Bench
Budget session of the Maharashtra Legislature begins today
---
National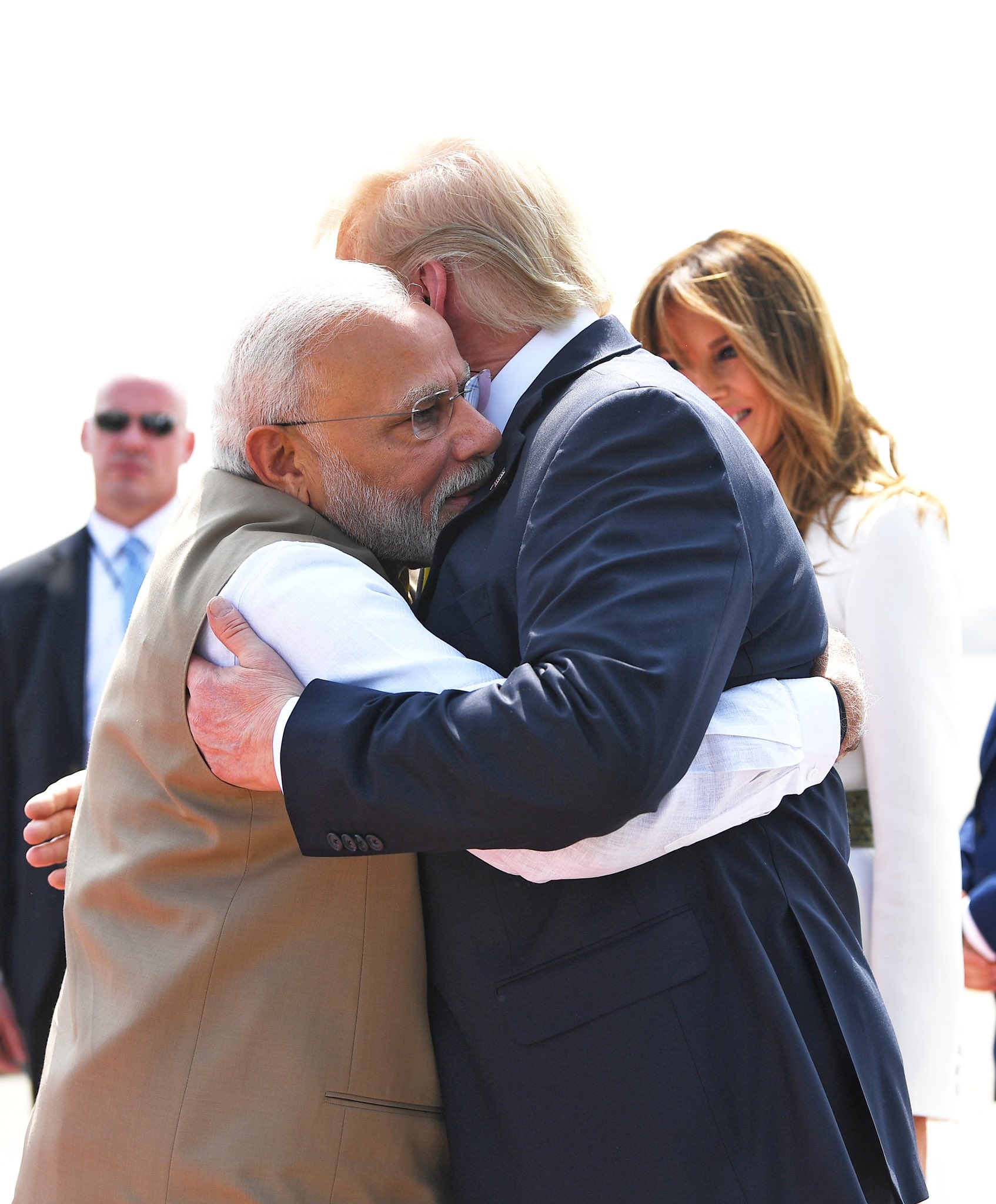 U.S. President Donald Trump's visit to Taj Mahal in Agra

'From this day on, India will always hold a very special place in our hearts'
US President Donald Trump addresses the Namaste Trump community programme in Ahmedabad
US President Donald Trump Speech Highlights :
America loves India, America respects India and America will always be faithful and loyal friends to the Indian people.
We will always remember this remarkable hospitality, we will remember it forever. From this day on, India will always hold a very special place in our hearts.
I express my profound gratitude to an exceptional leader, a great champion of India, a man who works night and day for his country and a man whom I'm proud to call my true friend, Prime Minister Modi.
US and India are committed to working together to stop terrorists and to fight their ideology. My government is working positively with Pakistan to crack down on terrorist organisations and militants that operate on Pakistani border.
'India's rise as a prosperous and independent nation is an example to every nation all over the world; it's all the more inspiring as you have done it as a democratic, peaceful & tolerant Country.
Excerpt from US President Trump's speech
---
'Friendship is where trust is unshakable'
PM Modi addresses the Namaste Trump community programme in Ahmedabad
Five months ago, I had started my American trip from #HowdyModi. Today, my friend POTUS Trump is starting his trip from #NamasteTrump in Ahmedabad.
The world's biggest democracy welcomes you, Mr. Trump. We may be in Gujarat, but entire India is excited to invite you. The arrival of POTUS, FLOTUS, Ivanka Trump and Jared Kushner gives the Indo-US ties a familial touch and adds warmth to it.
You're on the banks of Sabarmati River, which played a crucial part in India's struggle for Independence. You're in India that is diverse. It uses several languages, has different cuisines, different traditions, and several communities.
While US is the land of free, India treats the whole world as one. While US values its statue of liberty, India prides her for the tallest statue of unity in the world! Unity and vibrancy in diversity form the base for a strong US-India relationship.
The core principle of a relationship between two people or countries is trust. 'Friendship is where trust is unshakable.' In the last few years, the new highs the trust between India and US has reached is historic!
I've witnessed the rise in this trust in my visits to the US. I vividly remember when I met POTUS Trump for the first time in Washington, he had said that: "India has a true friend in the White House." He has always presented his love and affection for India.
India and the US together are capable of leading the digital age in the 21st century. New alignment, new competition, new challenges and new opportunities are building the foundation for change in the 21st century.
---
Roadshow of PM Modi and President Trump to Motera Stadium
---
PM Modi and President Trump visit Sabarmati Ashram in Ahmedabad
---
Ahmedabad gives a rousing reception to PM Modi & President Trump
---
PM Modi welcomes US President Trump in Ahmedabad, Gujarat
Delhi Dy CM Manish Sisodia takes Oath in Delhi Assembly
---
LIVE – The cultural extravaganza has begun at Motera Stadium
---
PM Modi arrives in Ahmedabad, to attend 'Namastey Trump' event
@PMOIndia :
PM @narendramodi landed in Ahmedabad.
In a short while from now, @POTUS will be landing in Ahmedabad.
India looks forward to welcoming him and other distinguished guests from USA.
---
Budget session of the Maharashtra Legislature begins today
@ShivsenaComms :
CM Uddhav Balasaheb Thackeray & Minister @AUThackeray arrive for the 1st day of the Budget Session of the Maharashtra State Legislature.
---
Huge Crowd outside Motera Stadium to Welcome US President Trump